At Steps on Toes each Dance Lesson is custom tailored to each student's needs.
Learn to Swing Dance in Oakland with Laurie Ann Lepoff.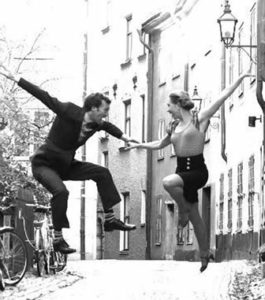 Swing dancing is not only fun as it is also a great exercise and an awesome way to meet folks. The swing dance community tends to be one of the most vibrant and one of the most accepting out there.
"Swing" is the music, and "swing dancing" is the family of dances that developed to the new musical style that began with the Harlem Renaissance in the 1920s. Taking elements of jazz, tap, the Breakaway, the Charleston and the new syncopated rhythms of the era, a new dance style emerged—Lindy Hop. Almost 90 years later, swing dancing with its many variations is still going strong.
Lindy hop, the original swing dance, is a complex partner jazz dance, very innovative and playful. Jitterbug, sometimes referred to as East Coast Swing is a very simplified version of Lindy for people who want to start with an easy dance. West Coast Swing is another complex musically oriented dance, like Lindy, but with a slick, sophisticated style, usually danced to rhythm and blues.
SALSA DANCE LESSONS | BALLROOM DANCE LESSONS |
CAJUN ZYDECO DANCE LESSONS
Lindy Hop
Lindy Hop Dance Lessons
Lindy is a complex, creative, partner dance that allows the dancers to play with the nuances of the music. It's a great choice for people who enjoy a challenge, love the music, and like the idea of adding their own styling signature to their dance.
Lindy is very popular here in the bay area and you can go dancing many days of the week. The custom is to dance with a variety of partners even if you start out as a couple. The dance has a joyful, friendly, sometimes silly, attitude and the crowd tends to be friendly and welcoming, making it a good choice for single people.
We usually start our students off with a simpler version (see East Coast Swing) so that they can hone some basic skills on an easier dance before tackling the challenge of Lindy. People who pick it up quickly can choose to transition to Lindy whenever they feel ready. Students for whom easy dances are challenging can opt for staying with East Coast Swing longer.
Everyone learns at a different pace, but for most people a complex dance like Lindy is a commitment. There are many levels to learning this charming dance. If you really want to do it justice, expect to be taking lessons for several months. You could continue to learn it for years, but it doesn't take that long to achieve a level of proficiency in which you are able to have fun, be fun to dance with, and feel confident with what you know as you add to it.
Lindy seems to have a particular attraction to tech people. A large percentage of the Lindy community here and other places are computer programmers, scientists, engineers, and people who enjoy solving problems. There are many theories for why this is true, but it's undeniable. If this sounds like you, know that you'll feel right at home in this community.
Jittterbug (East Coast Swing)
Jitterbug Dance Lessons
The term Jitterbug means different things to different people, so you can't really be sure what dance is being discussed when people (especially older people) use it. Here in the bay area, it generally is considered to be synonymous with East Coast Swing. East Coast Swing is a simplified version of Lindy Hop. It was created by dance studios when Lindy (a street dance) became popular enough to interest people outside of Harlem. The studios needed something easy enough to market to white people, so they took the 6 count variations (a small part of Lindy which is primarily an 8 count dance) and expanded it into a dance of its own. Most of what is challenging about Lindy (Charleston variations, jazz steps, a free hand to incorporate into an individual style, musicality, etc) is not a part of East Coast Swing.
Although Lindy Hoppers find it a tad boring, it's actually a fun dance with a great many moves. It's very easy to follow, which makes it a good choice for leaders who want to dance with women who don't know how but are dying to try. It's also a great choice for people with no dance experience who need to learn the basics of how to connect to a partner.
Before the resurgence of Lindy, dance studios offered classes of various levels in East Coast Swing, and there were places to go dancing where that was the only dance. When Lindy began to take hold, the dance studios started using it as a stepping stone to Lindy. Both dances happen at the same events, and it's hard to find an advanced, or even intermediate class in East Coast Swing. Some students fall in love with this dance and want to stick with it instead of "graduating" to Lindy Hop. These students can build an impressive repertoire and are fun to dance with even if they never learn Lindy.
There is lots of overlap in the music, but not all music that works for Lindy is good for East Coast Swing. Because it's a 6 count dance, it's danced to the down beats, the way you clap on every other beat when you clap to music. The actual measures are ignored, which means it's hard to dance to music that does not have a clear easy to find beat. Lindy hoppers like to play with the nuances of the music, so it's often full of breaks and complexities that make it challenging for East Coast Swing dancers. I have my students practice not only to easy East Coast Swing music but also to challenging Lindy music so they'll be prepared for the wide variety they'll encounter when they're ready to go out dancing. All Lindy Hoppers can lead or follow East Coast Swing so it's still a valid option!
West Coast Swing
West Coast Swing Dance Lessons
West Coast Swing is, like Lindy Hop, a challenging and complex dance. It differs from Lindy in style and attitude. It's danced to Rhythm and Blues as opposed to swing music and has a slick, sophisticated style as opposed to the wild crazy look of Lindy. It's danced in a slot. In other words, the follower moves back and forth in a line and the leader either blocks her path so she backs up, or gets out of the way so she passes him. The footwork combines 6 and 8 count steps with other moves that don't fit either count. Unlike lindy, which is primarily an 8 count dance in which the 6 count steps are optional, the 6 count steps in West Coast Swing are crucial to the dance. It's also smooth and does not bounce.
West Coast Swing is a jazz dance, like Lindy, which means there is room for individual embellishment of the footwork and the inclusion of jazz steps. The dance is led and followed, but within that context, both partners can play with the footwork without interfering with the lead and follow. Although there are numerous accounts of its origins, most agree that it came about after the big ballrooms shut down and dancers moved to smaller clubs where space was limited. Presumably at that time everyone agreed to face their slots in the same direction, thereby making more efficient use of the space. Today, however, there is no such agreement and dancers aim their lines in different directions, often changing directions in the middle of the dance no matter how crowded the floor.
The attitude of West Coast is much more dignified than Lindy. While it can be playful, there are no silly steps. It's a good choice for personalities that don't feel comfortable letting it all hang out and want to hang on to their dignity while feeling sexy and sophisticated. There was even a time when this dance was known as "sophisticated swing."
Because the dance has a more serious attitude, the community is not as friendly to beginners, so if you are a beginner without a partner, your early forays onto the dance floor can be daunting. If you stick with it, though, you will be rewarded with a beautiful and fun dance. If you are a couple, this is wonderful dance to pull out when you are at a contemporary dance concert. If you are the only couple doing it, it doesn't take up a lot of space and it's impressive to watch.
East Coast Swing is also a good introduction to this dance, and I recommend starting with it as you can hone your basic skills on a much easier dance, making it easier to later transition into the much more challenging West Coast Swing.
Shag and Balboa
There are 3 different dances that are all called Shag. Carolina Shag, which I don't teach, is a slow southern dance that is reminiscent of West Coast Swing. St Louis Shag and Collegiate Shag are fast dances with lots of hopping. No one seems to really know why these dances all have the same name. Collegiate and St. Louis come from the swing era and are danced in combination with Lindy Hop.
St. Louis Shag is more complicated that Collegiate because it's basic step can be challenging to learn. Once you get it down, however, the rest of the dance is fairly simple. Both of these fast shag dances require considerable stamina as they use a lot of energy and are danced to fast music. They are both fairly easy to learn, however, so I put them in the category of dances that are hard on the body (good exercise!) and easy on the brain. Although they are danced at Lindy dances, few enough people know them that you may miss your opportunity if you don't happen to be standing next to a fellow shag dancer when a fast song comes up. They're fun, though, so if a workshop comes your way, take advantage of it. You'll learn a lot in a short amount of time and have a lot of fun in the process.
Balboa, like Shag, is also danced by Lindy Hoppers to the same fast music as Shag. Although it's a fast dance, it's pulse is gentle and it doesn't use a lot of energy. If you have a partner, it's a great dance for fast music in tight places as it doesn't take up much room and is not tiring. It's pretty intimate, though, as it's danced in a close embrace. Unlike Shag, it's a complex, challenging dance that takes a time commitment to learn. While you can pick up Shag in a fun short workshop, you'll need a series of classes to nail Balboa. As with other challenging dances, it's not just the footwork that is complex, but the way you move your partner. For this reason I highly recommend getting the basics in private lessons rather than group classes.
Balboa got its name from its place of origin. It started on Balboa Island in Southern California where the original dancers continue to dance. There are still a few of them, now in their nineties, still cutting a rug and appearing as honored guests at Balboa weekends.
The basic step is tricky to learn and you have to be committed to practicing. Unlike St. Louis Shag, however, the rest of the dance is just as tricky. Here in the Bay Area, Balboa dancers are like Shag dancers. They're out there, but you may not find one when you need one! 🙂