What Clients Have to Say About LaurieAnn
My husband Steve and I were looking for help with our first dance. LaurieAnn was the perfect teacher. She is patient, kind, wonderfully knowledgeable about the world of dance and music, and a terrific teacher. In five lessons, she helped us pick a great song and put together a simple but elegant dance with us. What initially began as a source of stress turned out to be one of true HIGHLIGHTS of our wedding! We received so many compliments form our guests. We would definitely consider taking another round of dance lessons with LaurieAnn just for fun (and especially now that we don't have the pressure of the wedding) Thank you, Laurie ann!
Jane G.
---
Going through a short list every evening of things I'm grateful for, your name came up. It is a wonderful and profound change in my life that I can just get on a dance floor and have fun when I want to. The absence of fear is huge, and has made such a difference in my social life. I know I'm not alone, you do very important work.
---
Dear LaurieAnn
I just wanted to thank you for helping Jesse and me prepare for our first dance together as husband and wife and also for a lifetime of dancing together! You were absolutely wonderful! We may be in contact for further lessons because it has become such a romantic thing for us to practice each night! Wishing you all the best!
Sincerely,
Jennette and Jesse
---
Here's a review (5 star!) from Jill K. on yelp.com:
i don't know who decided on the idea of a first dance. on top of everything else, someone had to go "hey, let's do some ballroom dancing before dinner at our wedding!"
what a jackass.
so, deep down inside, ballroom dancing does NOT seem like our thing. we love gettin' down to "sexyback," but apparently that doesn't really fly in the wedding world…
enter steps on toes, laurie ann lepoff's dance school for klutzes and shy people. already, i feel like she got us, and i hadn't even given her a call.
fast forward a couple weeks to our first lesson. the rain had stopped for the first time all day, which i took as a sign of good things to come.
we walked in the door, and laurie quickly introduced herself and asked about our goals and our music. we handed over two songs, and she quickly identified that we would probably want something like the foxtrot (more rigid), or the nightclub two step (more fluid.) rigid sounds boring to us, so we quickly got into the basic.
laurie ann has obviously had a lot of experience in teaching clueless couples, because she was quick to hone in on what we needed, how it needed to be done, and what language of instruction would work best for us. she was great with explanations and a "plan of attack," so to speak.
the bottom line is: this woman knows her stuff, and if you need to learn a dance, this might be the best way for you to do it! however, if you don't have the will to learn it, don't bother, because laurie ann will be the first to tell you it's not worth the time, effort or funds to do so.
---
Also on yelp.com
My partner and I just loved having lessons given by LaurieAnn! We loved what we have been taught and we are having so much fun going out and dancing, looking and feeling like we can do some moves on the floor.
Two of our friends wanted to know about our dance lessons and they were so jazzed about what we told them about LaurieAnn that they joined us for our lessons and we got a group discount from her.
Thank you LaurieAnn, I did find my "right foot"!
Dr. Karen Kartch, D.C.
Dr. Rima Goldman, M.D.
---
and another…
LaurieAnn is truly a teacher for klutzes . I am one of them. She has been very patient and supportive of me in learning steps, posture and balance.
John Sullivan
---
Still not convinced?…. more from yelp.com
We loved our session with Laurie Ann! Her knowledge and experience is expansive and she introduced us to ideas and techniques that will help us with all our dancing, not just the specific dance we were working on.
I really can't say enough about how great LaurieAnn is!
Tod A
---
How can we stop now???…
When we searched for a dance instructor – we came across LaurieAnn's website – and the title of her website "for shy people and klutzes" seemed to be the right place to go – me and my husband had zero dance experience, but a first dance for our wedding coming up very soon.
We learned to dance in just 5 lessons a proper romantic first dance including dip and we got to know also a lot about how the brain works regarding motion and feeling for rhythm – very helpful! We can highly recommend LaurieAnn as a dance instructor. Her studio is easy to reach, close to the highway.
Astrid K.
---
We don't mean to brag but wow, here's even more….
LaurieAnn is much more than a dance instructor.
She knows some relationship secrets. Like: "the sexiest thing is the world is a good lead on the dance floor. "
My husband and I had a great time in our lessons with LaurieAnn. And the fun continues…
Laura K.
---
OK OK, enough already!… (NOT!)
LaurieAnn is a terrific dance teacher. Dancing is her passion and it shows. She loves what she does.
A couple of months ago, I referred a couple of my friends to LaurieAnn for a dance lesson and they loved it. They said they learned a lot about life while taking lessons from Laurie Ann. One of my friends said she was so surprised to learn so much in just one hour.
They are going back!
Lee R.
---
From Bill
LaurieAnn, thank you so much for putting up with all my whining and groaning (and questions). The introduction you gave me to Lindy Hop was pivotal in the chain of events that led to me meeting voilet. There was a movie that came out a year or so ago called "The 40 Year Old Virgin". The lead character, well, that was me (only I was 35). Learning to dance, and having to build up the courage to approach women, was a ground breaking ritual of sorts. It helped me to find that inner confidence (because if you don't have it , the ladies can sniff out your desperation like bloodhounds, yeesh.)
In short, thanks for showin' ya love. It will all come back as good karma in the next life.
---
From Sarah and Thom
Well, we didn't fall down, bump into anyone, or step on each other's toes. I think that makes you officially a miracle worker.
Thanks for all your hard work! We had a wonderful time.
---
From Indiebride:
Dance lessons from THE AMAZING, I TOTALLY RECOMMEND HER LaurieAnn Lepoff…we only had five lessons and Mr. L danced divinely. She was wonderful, practical, funny, and had kittens to play with!
---
This one from Berkeley Parents Network:
I highly recommend LaurieAnn Lepoff (Social dance for shy people and klutzes). My husband and I took private lessons from her before our wedding, and we ended up wowing the crowd. My husband was (is) pretty phobic about dancing in public, so it was quite an accomplishment. Ms. Lepoff is located just E of Lake Merritt in Oakland…
Carrie
---
Working with you was one of the best investments I've ever made.
– Jane
---
We thought you might like to know, the most consistent comment our friends and family shared with us was about how beautiful and moving the dance was. For us, it was as though we were being danced. It was quite an extraordinary experience and we feel it is a testimony to how well you taught us. You are truly a gifted teacher; patient, thorough, humorous, and sensitive, in addition to your skill!
Many thanks,
Victoria and Tony
---
Just wanted to get back in touch and tell you what fun we had with dance lessons this summer! Even on a busy crazy evening, we looked forward to coming to your studio because we knew we'd have fun and get better at dancing together. You are able to explain things in such a clear, funny,"no-one's at-fault" way, it makes it easy to relax, make mistakes, laugh at yourself, improve, and just plain old have a good time together. A great part of our summer!
Love,
Kathy and Paul
---
Before LaurieAnn's dance classes, the dance floor did not exist in my vocabulary. It was a mere illusion. In fact, before Laurie Ann, dancing was my biggest fear and my worst enemy. After a "few" (what can I say, I am a slow learner) dance lessons, I am free of the fear I once had, and the dance floor is my friend, my new friend. Thanks to LaurieAnn's patience and good skills, I am a better man, and my girlfriend (and I) are grateful for that.
Danny S.
---
During this past spring and summer, when I have been at dance events, its been (maybe) the first time in my life when I haven't been terror filled, or done my best to hide or run away. I have Fun at them now!
Best,
Jane
---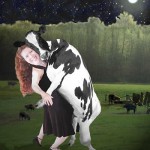 Before I met LaurieAnn I had 4 left hooves.
LaurieAnn can teach anyone to dance!"